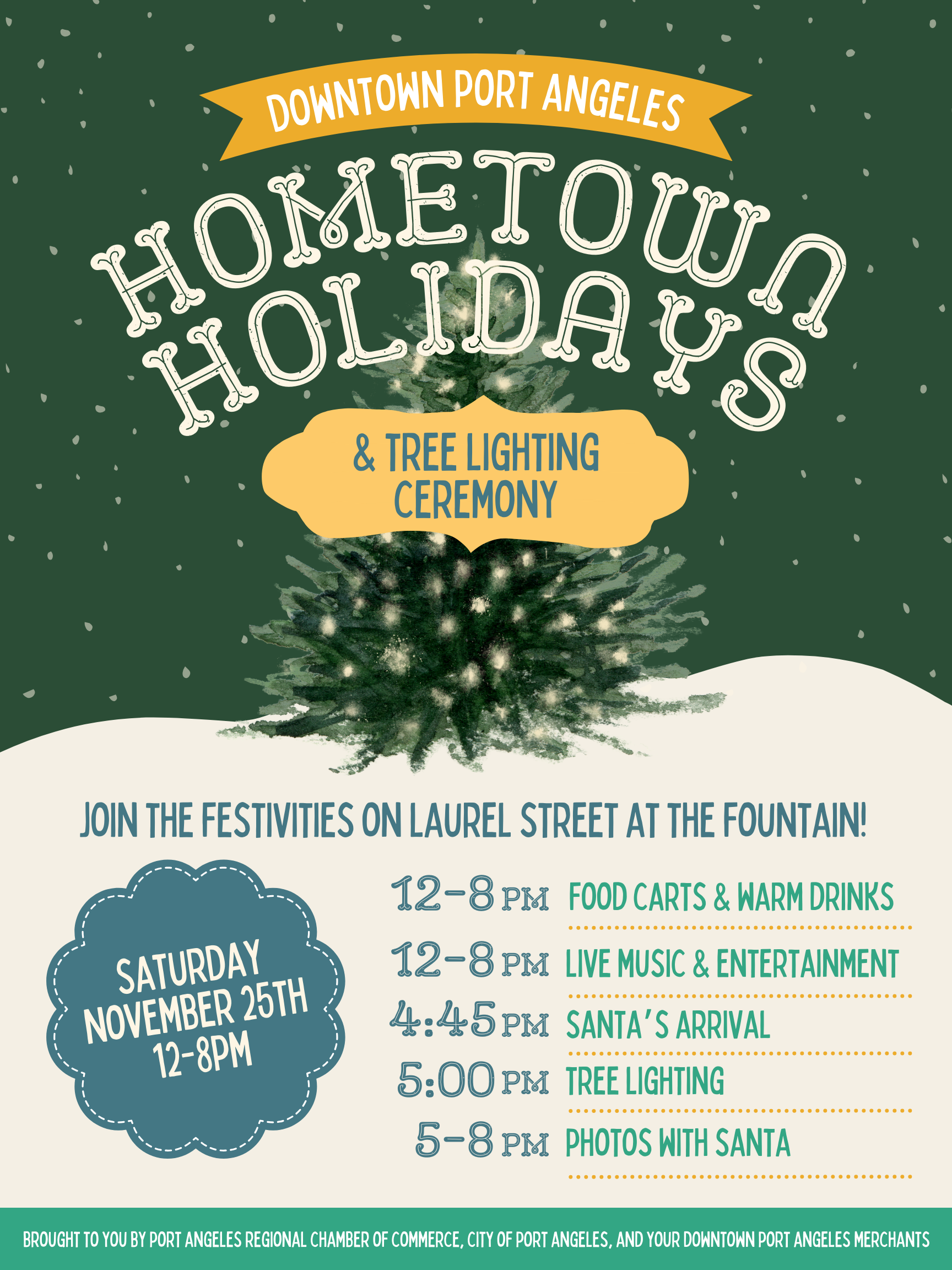 Hometown Holidays Celebration
Port Angeles' annual Hometown Holidays & tree lighting ceremony returns downtown on Saturday, Nov. 25th!
The sounds of festive music will fill the air as the Port Angeles Chamber of Commerce and the Downtown Promotions Committee present 2023's Hometown Holidays celebration.
This year's event will include a wide range of local musicians and performers who will be performing on the community stage from 12-8pm on Laurel Street between First and Front Streets. Tim Tucker returns as the Master of Ceremonies, and scheduled hourly performances include:
12:00 IBC Student Ministry Band
1:00 Cherrywood
2:00 Parking Lot Pipers
2:30 Robbin Eaves
3:00 PA Panto
4:00 Studio 360
A new addition of food carts to this year's festival will provide warm and tasty treats while you shop and support local on this Small Business Saturday. Grab a wood-fired pizza slice at Porter's Pies or a hot coffee and cocoa at Great Northern Coffee Bar's booth. Both will be located on Laurel Street from 12-8pm.
The much-anticipated arrival of Santa Claus will take place at 4:45pm, with holiday lights illuminating the tree at the Fountain at 5pm. Children will be able to get photos and visit with Santa until 8pm.
The holiday tree was provided by the Port of Port Angeles, and holiday lights have been installed by the Port Angeles Kiwanis Club. Thank you to Parks & Rec and the City of Port Angeles for providing labor needed to install holiday ornaments on light poles as well as lights on the Conrad Dyer Fountain on Front Street.
The Port Angeles Chamber of Commerce, Elevate PA, and other related entities provide this calendar as a public service, and shall not be held liable for content, dates, or information contained within. We do our best to moderate events, but please contact the organizer if you have any questions or concerns.